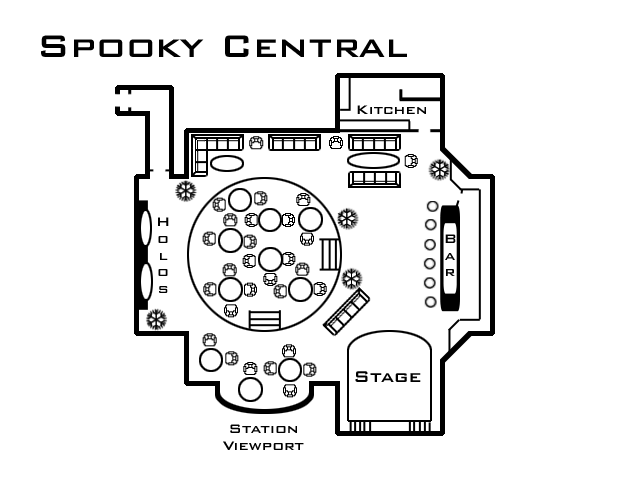 Spooky Central is a restaurant and bar owned by Mrissa Easeah, and is located at Chemal Tech Factory station, Doussivitte VIII, Moon 20 in the Sinq Laison region of the Gallente Federation.
Spooky Central is primarily a place for relaxing between missions, discussing the day's events, and making unofficial business deals with Mrissa's friends and family. It's a civilized place, and whatever weapons might have cleared station regulations, if any, are checked at the door. Spooky Central is a private business, and is not directly affiliated with Band of Builders beyond its owner being a member of that corporation. Most systems are automated, if staff aren't on hand, but the general design and layout is such that anyone with a will to cook or mix drinks can earn restaurant credits (toward free meals, drinks, etc.).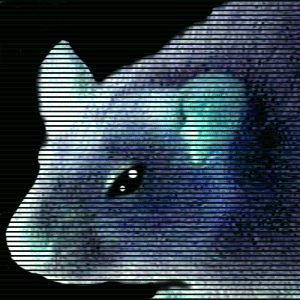 Several of Mrissa's friends and lovers have apartments adjacent and above Spooky Central, several of these inter-linked by common doorways, though none are directly accessible from the bar.
The bar gets its name from its namesake, Spooky, who is Mrissa's giant electric blue Amarrian Diurge Rat. (or at least that's its suspected species this week).
A short walk from the bar is one of Chemal Tech's main lifts, which accesses a shopping promenade and Gallente Bizarre 3 levels overhead, and higher still, ultimately, the station's garden dome, where Mrissa and Morgana Ellyres co-sponsor several garden and natural wildlife projects.